Browsing articles tagged with "hidden Archives - AgniPulse"
Hidden OEM Partition cannot be mounted with a drive letter using Windows Disk Management. Using a Partition Management Tool to unhide such a hidden partition may be cumbersome. MountStorPE is a useful tool which mounts hidden partitions without unhiding it.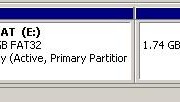 A USB Flash Drive can be easily partitioned into a maximum of 4 partitions.All the partitions can also be accessed in Windows easily.This is possible using a tool called Bootice.
There are many ways and tools to hide or protect important data on a USB Flash Drive.However a simple format of the USB Flash Drive can erase the important data.
Using Fbinst, a hidden partition can be created to store important data.This hidden partition stays even after formatting the USB Flash Drive.
Most BSNL Broadband users use Huawei ADSL routers. It is also a well known fact that the default username and password of the router is admin and admin. This password can be changed through the web interface. But I discovered a hidden user account with full priveleges which can be used to access the router even after changing the default password.