Browsing articles tagged with "iso Archives - AgniPulse"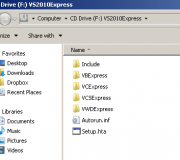 Sometimes you may require only some particular files inside an ISO. So downloading an entire ISO just for a few files is a big waste of bandwidth .Sometimes you may also want to know the contents of an ISO before downloading it.In such circumstances Httpdisk is very useful. Httpdisk mounts an ISO file stored somewhere in the internet to a virtual CD Drive in your computer without downloading the entire ISO file. You can then view and copy the contents of the ISO in your computer.
Ubuntu and its derivatives can be installed directly from the hard disk using Grub4Dos boot loader and iso emulation.This procedure is faster and does not require any secondary media such as CD or USB Flash Drives.
The bootable Acronis True Image ISO file created by the Bootable Media Builder can be easily booted from your USB Drive or Hard Disk using the ISO Emulation feature of Grub4Dos.
ImDisk is a virtual disk driver for Windows NT/2000/XP/2003/Vista/2008. It can create virtual hard disk, floppy or CD/DVD drives using image files or system memory.
The direct download links to the Windows 7 operating system purchased online have been leaked. The installation files of Windows 7 is hosted on the server on domain msft-dnl.digitalrivercontent.net owned by Digital River, one of the delivery partners for Vista and also the brain behind Windows Marketplace e-commerce store